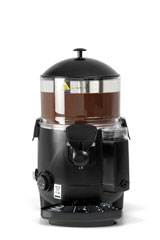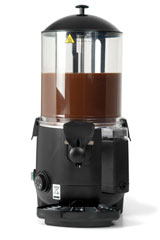 CH hot chocolate machines have been designed to heat and mix any kind of drink (tea, coffee, milk, mulled wine, etc.) and chocolate in a special way that ensures its smoothness and thickness.
The machines prepare the hot chocolate simply and effortlessly using the professional "bain-marie" method, making for an excellent result and saving time into the bargain.
TECHNICAL FEATURES:
• Bain-marie heating of product prevents burning.
• Continuous stirring maintains a perfect, lump-free consistency.
• Thermostat for adjusting temperature as required.
• Special anti-clogging spigot.
• Stainless steel boiler, with thermal insulation.
• Non-slip feet.
• New product bowl that can be removed quickly.

• Large drip tray with water level gauge.
• Hot water tank with easy emptying process.